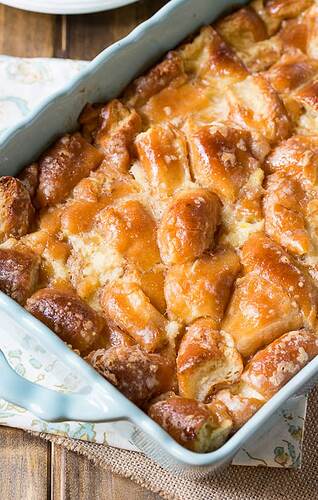 2/3 cup granulated sugar
4 large eggs
1 and 1/3 cup half and half
1 cup milk
1 Tablespoon grated lemon peel
1 teaspoon vanilla extract
12 donuts
Whisk sugar and eggs until light and fluffy.
Add half and half, milk, lemon, and vanilla and whisk together.
Tear donuts into golf ball size pieces.
Fold donuts into milk mixture and allow to sit 10 minutes.
Heat oven to 375 degrees F.
Spray a 8x12 inch baking dish with non-stick spray.
Bake at 375 degrees 45 minutes or until brown on top and firm in the center.
Remove pan from oven and cool on a wire rack 5 to 10 minutes.
Serve with Lemon Sauce and fresh strawberries or your favorite berry.