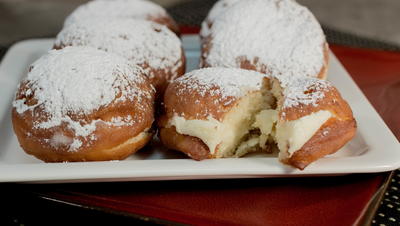 1 package regular yeast
1 tablespoon sugar plus cup sugar, divided
2 tablespoons water at 105 degrees F
3/4 cup lukewarm milk
1 egg
1 tablespoon solid vegetable shortening
1/2 teaspoon salt
2 1/2 cups flour, divided
6 cups vegetable oil for frying
For the Filling:
1/4 cup solid vegetable shortening
1/4 cup butter
1/2 teaspoon vanilla
2 cups sifted powdered sugar
1 tablespoon milk
1 cup powdered sugar for garnish
If you like this recipe, you'll love our Better Than Starbucks Apple Pound Cake.
Dissolve yeast in warm water with 1 tablespoon sugar in the bottom of the bowl. Beat with an electric mixer until it is foamy, about 5 minutes. Meanwhile, place milk into the microwave for 1 ½ minutes on high power, then let cool to 105º–115º F.
Add milk, remaining ¼ cup sugar, the egg, shortening, and salt plus 1 cup of the flour. Beat on low for 30 seconds; scrape the bowl. Then beat 2 minutes on medium speed and scrape the bowl once or twice.
On low speed, add the remaining flour and beat on low for 1 minute until smooth. Cover the bowl with plastic wrap and let rise until double, about 1 hour. Turn dough out onto a lightly floured surface and roll to ½ -inch thickness. Cut out circles with a 3-inch cutter and place them on lightly floured baking sheets. Cover and let them rise again until double, about 30 minutes.
Heat frying oil in a wide, deep pot over medium heat to 350 degrees F. Carefully slide 4 – 5 donuts into the oil at one time and fry for 1 minute on each side until golden brown. Remove with tongs or a wide slotted spatula to a paper-towel lined cookie sheet, being careful not to puncture the sides of the donuts. Continue to fry remaining donuts, adjusting heat to maintain a constant 350º F.
While donuts cool, prepare the filling: Cream butter with the shortening, then gradually add the sugar until smooth and fluffy. Add the milk and vanilla and beat until smooth. Filling can be made as much as a week ahead, stored in the refrigerator in an airtight container. Bring to room temperature before filling a piping bag which has been fitted with a large plain tip.
Use a sharp small knife to pierce each donut on the side into the center, then moving the knife side-to-side to make a cavity in the center. Insert the pastry tip into this hole and fill with about 1 to 1 ½ tablespoons filling. Sprinkle tops of the donuts generously with powdered sugar before serving.