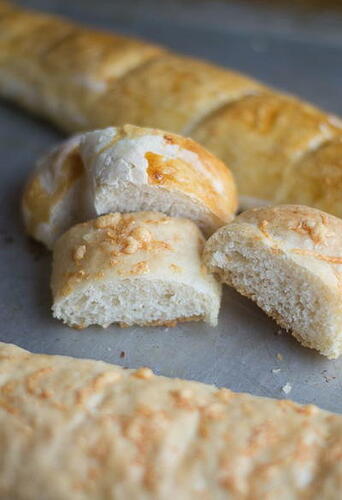 1 cup water
1½ teaspoons dry active yeast
1 tablespoon white sugar
1 teaspoon salt
2½ cups all purpose flour
1 egg yolk + 1 teaspoon water (whisked) or 1 tablespoon melted butter + ½ teaspoon garlic (garlic optional)
Grated asiago (optional)
Place 1 cup water, yeast, and sugar into a large bowl and let proof for about five minutes.
Slowly stir in the salt and flour until everything is combined and you can form into a ball.
Place in a greased bowl (turning to cover the dough in it).
Cover with a cloth or paper towel and let it raise for about 30 minutes in a warm area (or until doubled.)
Once doubled, punch down and place on a lightly floured area.
Roll into a 16x12 inch rectangle and cut in half (so you have two 8x12 inch rectangles.)
Roll each piece of dough tightly, starting at one of the 12 inch sides. Remove air bubbles as they appear.
Place on a greased baking sheet about 3 inches apart.
Make diagonal slashes across the love every couple of inches.
Brush with an egg wash or the garlic butter (or just butter). Sprinkle cheese on top if desired.
Cover and let rise for about 45 minutes, or until doubled.
While rising, preheat oven to 375 degrees.
Bake about 20 minutes, or until golden brown.