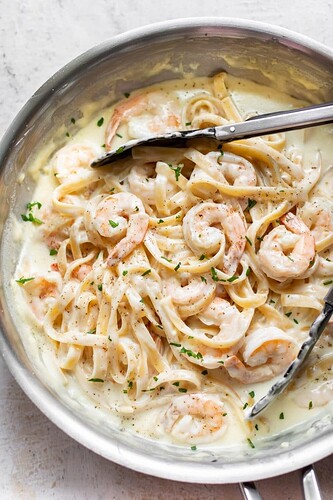 8 ounces uncooked fettuccine
1/4 cup butter, cubed
1-1/2 cups heavy whipping cream
1 pound cooked medium shrimp, peeled and deveined
3/4 cup grated Parmesan cheese
1 garlic clove, minced
1/4 teaspoon pepper
1 teaspoon minced fresh parsley
Cook fettuccine according to package directions. Meanwhile, in a large saucepan, melt butter over medium heat. Stir in cream. Bring to a gentle boil. Reduce heat; simmer, uncovered, for 3 minutes, stirring constantly.
Add the shrimp, cheese, garlic and pepper; cook and stir until heated through. Drain fettuccine; toss with shrimp mixture. Sprinkle with parsley.