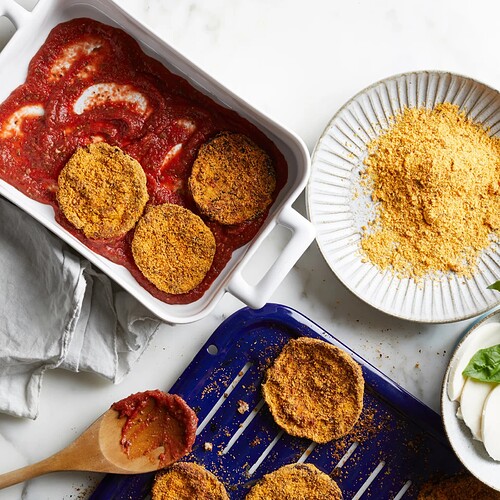 2 tablespoons olive oil
1 large eggplant
1 teaspoon sea salt
2 large eggs
3/4 cup ground almonds
1/4 cup grated Parmesan cheese
1 teaspoon dried basil
1 teaspoon paprika
1 teaspoon garlic powder
1 teaspoon dried oregano
3 cups tomato sauce
1 cup shredded mozzarella cheese
Preheat the oven to 400°F. Grease a baking sheet with the oil and set aside.
Remove the stem end from the eggplant and slice the eggplant into 1/2-inch rounds. Salt them thoroughly and set on a clean kitchen towel. Leave for 15 to 20 minutes, to draw out the moisture.
Meanwhile, whisk the eggs in a small bowl or pie dish and set aside.
In another bowl or pie dish, whisk together the almonds, Parmesan cheese, basil, paprika, garlic, and oregano. Set aside.
Brush the salt from the eggplant and press the slices with a towel to draw out any excess moisture.
Dip the eggplant slices in the egg mixture, then in the almond mixture, and transfer to a baking sheet.
Bake for 15 to 20 minutes, then turn carefully, and continue to bake until golden brown and crispy
Spoon the tomato sauce onto the baking sheet (around and on top of the eggplant) and top each round with the mozzarella cheese.
Return to the oven and bake for 5 to 10 minutes, until the sauce is hot and the cheese has melted.