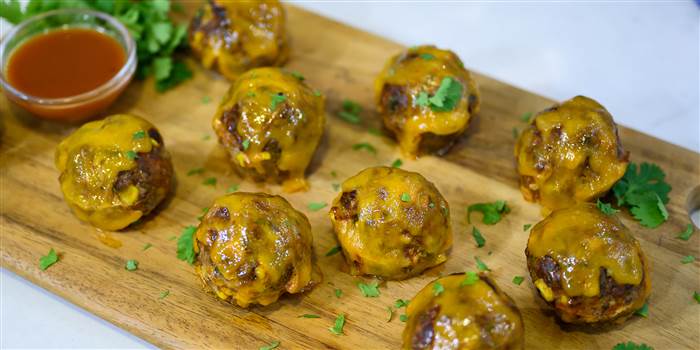 2/3 cup bread crumbs
1 pound 96% lean ground beef or 93% lean ground turkey
1 egg white, lightly beaten
1/3 cup canned corn, rinsed and drained
1/3 cup diced red onion
1/3 cup chopped and tightly packed fresh cilantro
1 teaspoon ground cumin
1 tablespoon chili powder
1 teaspoon dried oregano
1 pinch freshly ground black pepper
1 teaspoon cayenne pepper (optional, if you like a lot of heat)
Nonstick cooking spray
2/3 cup red or green enchilada sauce
3/4 cup shredded reduced-fat cheddar, mozzarella or Colby Jack cheese
Preheat the oven to 400°F.
Combine the bread crumbs, ground beef, egg white, corn, onion, cilantro, cumin, chili powder, oregano, black pepper and cayenne in a large bowl.
Using your hands or a rubber spatula, thoroughly mixing.
Spray a muffin tin with cooking spray, then divide the mixture evenly among the 12 muffin molds.
Bake for 15-20 minutes, until the meat has browned on top.
Remove the pan from the oven and add a little less than 1 tablespoon of the enchilada sauce on top of each muffin, followed by about 1 tablespoon of the cheese.
Bake for an additional 3-5 minutes, until the cheese has melted and is slightly browned.
Garnish with green onions and sliced jalapeño if desired. Allow the mini meat loaves to cool slightly before removing from the pan so that they do not break apart.