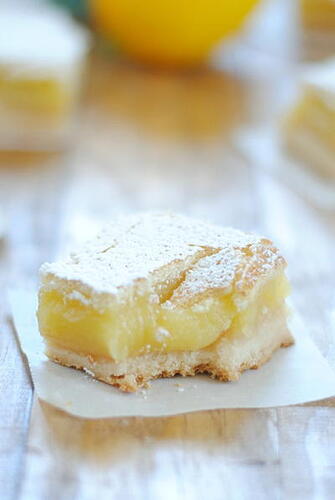 For the crust:
2 sticks butter, softened
1/2 cup granulated sugar
2 cups flour
1/8 teaspoon salt
For the filling:
6 extra-large eggs
3 cups granulated sugar
2 tablespoons grated lemon zest
1 cup lemon juice
1 cup flour
Powdered Sugar, for dusting
Preheat oven to 350ºF.
Line a 9x13 pan with foil or parchment, and lightly spray with non-stick cooking spray.
Cream together the butter and sugar. Mix in the flour and salt until dough forms.
Press the dough into the pan, building up 1/2 inch crust on all sides.
Bake the crust for 15-20 minutes or until lightly golden brown. Chill.
Whisk together all of the remaining ingredients (except the powdered sugar), and pour into the cooled crust. Bake for 30-35 minutes until filling is set. Let cool to room temperature or chill overnight.
Dust with powdered sugar before cutting and serving.