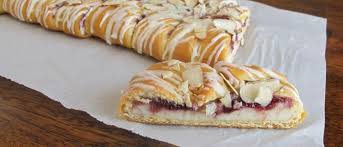 Pastry:
2 tubes crescent roll dough
1 egg white
Filling:
1 pkg (8 oz) cream cheese, softened
1/4 cup sugar
1 whole egg
1/2 tsp vanilla
1/4 cup seedless raspberry preserves
Glaze:
1/2 cup confectioner's sugar
1-2 tbs fresh lemon juice
1 tsp lemon zest
Preheat oven to 350 degrees F. Spray or lightly grease a 13 x 9-inch baking pan.
Prepare filling by beating all filling ingredients together except the raspberry preserves.
Open one tube of the crescent roll dough and separate in the center of the roll (on the perforation) into 2 rolls. Unroll each section–you will have 2 rectangles.
Pat one rectangle in half of the pan, repeat with the other half of the dough down the other end of the pan. Pat in the pan, forming a bottom crust and sealing the perforations as best you can.
Spread cheese filling on top of crust. Dot with the raspberry preserves and spread as best you can (it doesn't matter if it's sloppy) over the top of the cheese filling.
Open the other tube of crescents and repeat the procedure above, separating into 2 rolls along the center perforation.
Unroll each into a rectangle and place on top of the cheese/raspberry filling as you did for the crust. As best you can, try to close the perforations and cover the entire top. Again, if it's a bit sloppy, it doesn't matter.
Brush top with the egg white.
Bake at 350 degrees F for 30-35 minutes or until top crust is golden brown. Remove from oven and cool completely. Chill if desired about 2 hours.
Prepare glaze by mixing confectioner's sugar, lemon zest and 1 tbs of lemon juice at a time to make a pourable glaze. Drizzle glaze on top of the danish.
Refrigerate any leftover portions.
Makes 12 servings