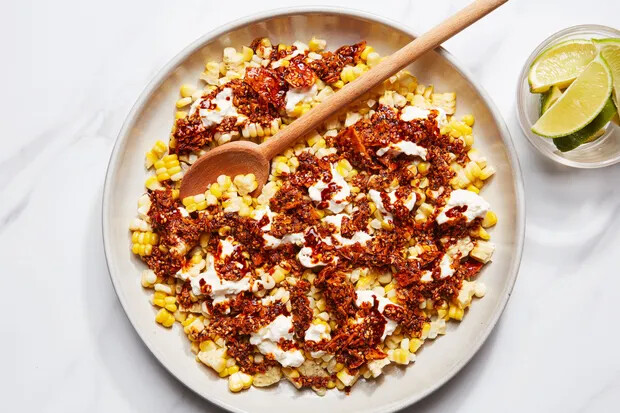 Kosher salt
8 ears of corn, husked
½ cup crema mexicana or crème fraîche
¼ cup mayonnaise
2 oz. Cotija cheese, crumbled
Juice of 4 key limes or 1 lime
Salsa and assembly
4 cups tortilla chips (about 4 oz.)
8 large guajillo chiles (about 2½ oz.)
2 dried chiles de árbol
1¼ cups extra-virgin olive oil
½ cup salted dry-roasted peanuts
¼ cup toasted sesame seeds
1½ tsp. Diamond Crystal or ¾ tsp. Morton kosher salt, plus more
Esquites
Bring a large stockpot of generously salted water to a boil. Place corn in pot, cover with a heavy plate to keep corn submerged, and remove pot from heat. Let corn sit until kernels are tender, about 10 minutes. Drain and transfer corn to a large bowl; let cool.
Stir crema, mayonnaise, and 2 Tbsp. water in a medium bowl to combine, then mix in Cotija; season with salt. Cover and chill crema mixture until ready to serve.
Salsa and assembly
Crush tortilla chips very coarsely in a large resealable plastic bag. Set aside.
Remove stems from guajillo and árbol chiles. Cut open with kitchen shears and scrape out most of the seeds and strings with your hands (wear disposable food-grade gloves if you have them). Break chiles into about ¼" pieces.
Heat oil over low in a medium saucepan. Drop in a peanut and when oil starts bubbling gently around it, carefully add remaining peanuts. Cook, stirring often, until golden and fragrant, about 4 minutes. Add chiles and cook, stirring, until chiles starting to darken and puff, about 1 minute. Let cool 10 minutes.
Transfer mixture to a food processor and process until peanuts and chiles are finely ground, about 2 minutes. Add sesame seeds, 1½ tsp. Diamond Crystal or ¾ tsp. Morton salt, and reserved tortilla chips. Pulse 3 times, just to combine (you want to preserve texture of sesame seeds and chips). Transfer salsa to a medium bowl and let cool. (The chile-peanut mixture will sink to the bottom while the chips stay afloat.)
Cut corn in half crosswise and stand upright. Slice away kernels in wide sheets with a sharp knife, using a gentle sawing motion. Transfer corn to a large platter. Drizzle 2 Tbsp. lime juice over and sprinkle with salt. Spoon reserved crema mixture on top, then spoon ½ cup salsa over, making sure to dig out some chile-peanut mixture along with some chips; reserve remaining salsa for another use. Drizzle remaining lime juice over. Taste and season with more salt if needed.