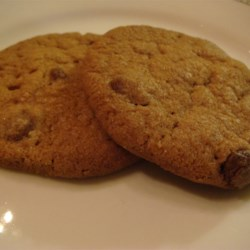 1/4 cup shortening
half stick butter, softened
1/2 cup brown sugar
1/4 cup granulated sugar
1 egg
1 teaspoon vanilla extract
2 tablespoons milk
2 cups all-purpose flour
3/4 teaspoon baking soda
1/2 teaspoon salt
1 cup mini semisweet chocolate chips
Preheat the oven to 350 degrees. Line cookie sheets with parchment paper or silpat baking mats.
Cream butter, shortening, and sugars together in an electric mixer fitted with a paddle attachment. Beat in egg, vanilla, and milk. Beat in salt and baking soda. Stir in flour and mix until combined. Stir in chocolate chips. Scoop 1 tablespoon balls of dough (I use a small cookie scoop for this) and place onto cookie sheets. Press the dough lightly with the palm of your hand to flatten just a bit (about half the thickness of the ball). Bake for about 13 minutes, until the cookies are slightly browned. Remove from oven. Cool 5 minutes on cookie sheet before removing to rack to cool completely. They will get crunchier as they cool.