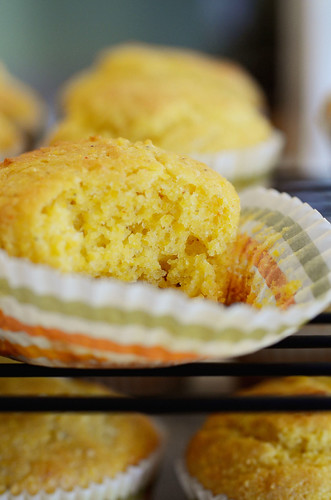 2 cups yellow cornmeal
1 (9oz) package yellow cake mix
2 teaspoons baking powder
1 teaspoon salt
1/8 teaspoon cayenne pepper
1/2 cup milk
1/2 cup buttermilk
1/4 cup vegetable oil
2 eggs, beaten
2 Tablespoons light brown sugar
2 Tablespoons honey
1 Tablespoon miracle whip light
14 ounce can whole kernel corn (well drained)
Whisk together cornmeal, cake mix, baking powder, salt, and cayenne in a bowl, set aside. Combine milk, buttermilk, oil, eggs, brown sugar and honey in another bowl and mix well. Add to the cornmeal mixture and gently stir – there should be no lumps, but do not over mix. Fold in the miracle whip and canned corn.
Let rest, covered, in the refrigerator for 30 minutes or overnight.
When ready to bake, preheat the oven to 400˚F. Line cupcake pan with liners. Scoop the batter into the cupcake liners, filling about 2/3 full.
Bake for 15-20 minutes or until a cake tester comes out clean and the top is golden brown.
Yield: 16 cupcake-sized muffins