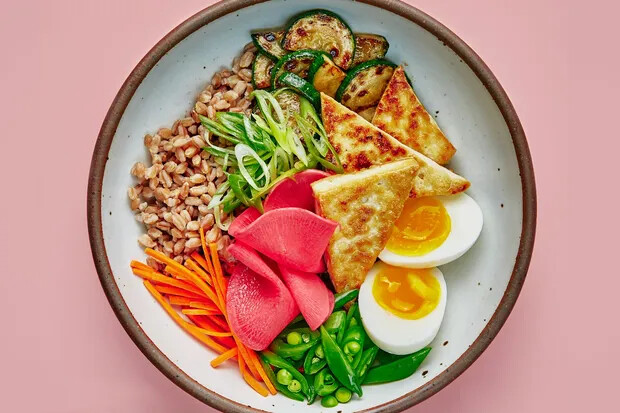 1 cup semi-pearled farro
1 tsp. kosher salt, plus more
4 large eggs
1 large watermelon radish or 6–8 red radishes, trimmed, thinly sliced on a mandoline if you've got one
¼ cup unseasoned rice vinegar
2 Tbsp. sugar, divided
1 (14-oz.) block extra-firm tofu, drained
3 Tbsp. plus ¼ cup grapeseed or vegetable oil, divided
2 Tbsp. fresh lime juice
2 Tbsp. gochujang (Korean hot pepper paste)
1 Tbsp. mayonnaise
1 Tbsp. plus 1 tsp. soy sauce
1 Tbsp. plus 1 tsp. toasted sesame oil
1 medium zucchini or summer squash, halved lengthwise, cut crosswise into (¼"-thick) half-moons
2–3 cups thinly sliced or shredded raw vegetables (such as carrots, scallions, blanched sugar snap peas, baby bok choy, cucumbers, pea shoots, or alfalfa sprouts)
Pour farro into a medium saucepan of boiling salted water, reduce heat, and simmer, stirring occasionally, until tender, 25–30 minutes. Drain farro and spread out on a rimmed baking sheet; let cool.
Meanwhile, using a slotted spoon, carefully lower eggs into a small saucepan of boiling water and cook 6½ minutes for an oozy, jammy yolk or 7 minutes for a slightly firmer middle. Transfer eggs to a bowl of ice water with slotted spoon and let sit until cool enough to handle, about 2 minutes. Remove eggs from ice water; peel and slice in half lengthwise.
Pack radish slices into a pint jar. Whisk vinegar, 1 Tbsp. sugar, 1 tsp. salt, and ½ cup hot water in a small bowl until sugar and salt are dissolved. Pour brine over radish slices; let cool. Cover and chill at least 1 hour before using.
Cut tofu crosswise into ½"-thick slabs, then cut each slab on a diagonal to create 2 triangles. Pat dry with a clean kitchen towel. Heat 2 Tbsp. grapeseed oil in a large nonstick skillet over medium-high. Add tofu in a single layer, season with salt, and cook, undisturbed, until golden brown underneath, about 4 minutes. Turn over and cook until golden brown on second side, about 4 minutes. Transfer tofu to a plate; reserve skillet (no need to wipe out).
Whisk lime juice, gochujang, mayonnaise, ¼ cup grapeseed oil, 1 Tbsp. soy sauce, 1 Tbsp. sesame oil, and remaining 1 Tbsp. sugar in a small bowl. Taste; season with salt if desired.
Heat remaining 1 Tbsp. grapeseed oil in reserved skillet over medium-high. Add zucchini, season with salt, and cook, tossing just once or twice, until tender and blistered in spots, about 4 minutes. Add remaining 1 tsp. soy sauce and 1 tsp. sesame oil and toss to coat. Transfer to a plate.
To serve, divide farro among bowls. Arrange eggs, drained pickled radish, tofu, zucchini, and raw vegetables of choice on top as desired. Drizzle each bowl with a few spoonfuls of dressing to your liking.