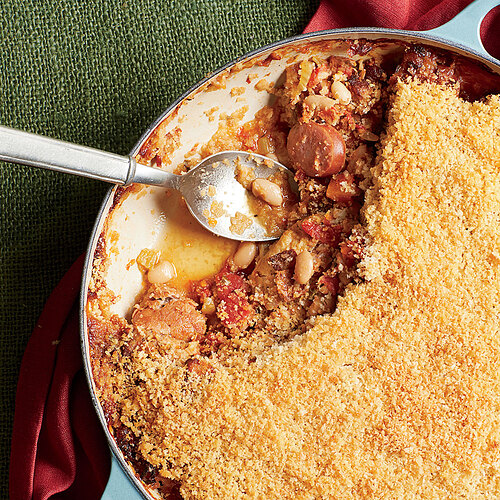 6 skin-on, bone-in chicken thighs
Kosher salt and freshly ground black pepper
1/4 cup olive oil
1 pound boneless country-style pork ribs, cut into 1 1/2-inch pieces
12 ounces thick bacon, chopped
1 small onion, chopped
2 medium carrots, chopped
2 celery ribs, chopped
1 (28-oz.) can whole tomatoes, drained and chopped
3 garlic cloves, minced
1 (16-oz.) package smoked sausage, sliced
2 (15.8-oz.) cans great Northern beans, drained and rinsed
3/4 cup reduced-sodium chicken broth
2 tablespoons chopped parsley
2 teaspoons chopped thyme
2 teaspoons chopped oregano
2 teaspoons chopped rosemary
2 tablespoons butter, melted
1 1/2 cups panko (Japanese breadcrumbs)
Sprinkle chicken with salt and pepper; cook half of chicken in 1 Tbsp. hot oil in a large skillet over medium-high heat 5 minutes on each side. Remove from skillet; repeat with 1 Tbsp. oil and remaining chicken. Wipe skillet clean. Sprinkle pork with salt and pepper, and sauté in remaining 2 Tbsp. hot olive oil in skillet, 3 minutes or until browned. Remove pork; wipe skillet clean.

Preheat oven to 300°. Cook bacon in skillet over medium heat, stirring occasionally, 8 minutes or until crisp; drain bacon, reserving 2 Tbsp. drippings in skillet. Add onion, carrots, and celery, and cook over medium heat, stirring occasionally, 8 minutes. Stir in chopped tomatoes, and cook 1 minute. Add garlic, and cook 1 minute.

Add bacon, sausage, and reserved pork to tomato mixture; bring to a simmer. Stir in beans and next 5 ingredients. Season with salt and pepper. Arrange chicken in a single layer, skin side up, in a large baking dish. Spoon bean mixture over chicken.

Stir together melted butter and breadcrumbs, and sprinkle over cassoulet. Bake at 300° for 2 1/2 to 3 hours or until golden brown and bubbly. Let stand 10 minutes before serving.
Southern Living