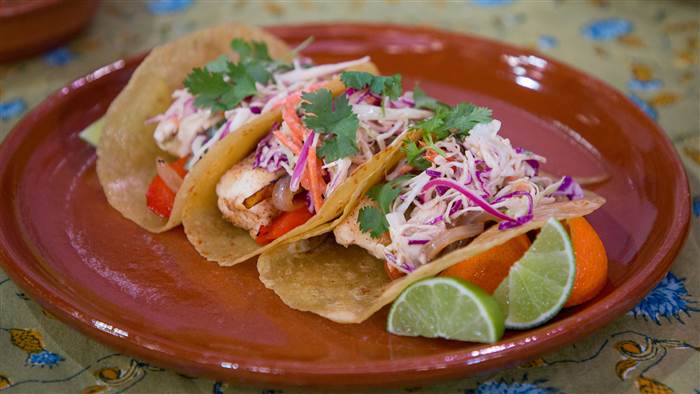 Slaw:
4 cups shredded green cabbage
1 cup shredded purple cabbage
2 medium carrots, peeled and shredded
1 small red onion, very thinly sliced
3 large scallions (white and light green parts), thinly sliced
1 jalapeño, minced (discard the seeds and ribs if you want less heat)
1/2 cup mayonnaise
1/2 cup plain Greek yogurt or sour cream
1/4 cup fresh lime juice
2 tablespoons sugar or honey
1 tablespoon ground cumin
1 teaspoon chipotle powder
Sea salt and freshly ground black pepper to taste
Tacos:
3 tablespoons olive oil, divided
1 medium yellow onion, thinly sliced
1 red bell pepper, cored and sliced
Sea salt and freshly ground black pepper
1/3 cup all-purpose flour
1 teaspoon chipotle powder
1 pound mild fish (halibut or cod), cut into four fillets
1 tablespoon olive oil
8 small corn tortillas
Slaw:
In a large bowl, combine the cabbages, carrots, onions, scallions and jalapeño.
In a medium bowl, whisk the mayonnaise, yogurt, lime juice, sugar, cumin and chipotle powder together until smooth and creamy.
Pour the dressing over the cabbage mixture, season with salt and pepper to taste and toss to combine.
Let the slaw sit at least 20 minutes before serving.
To store leftovers, cover with plastic wrap and refrigerate for up to three days.
Makes 6 cups.
Filling:
In a medium skillet over medium heat, heat 1 tablespoon of the oil.
Add the onion and bell pepper and cook until the onion is translucent and the bell pepper is softened, about five minutes.
Season with salt and pepper to taste. Reserve the mixture in a bowl.
In a shallow bowl, combine the flour, chipotle powder and 1 teaspoon salt.
Pat each fish fillet dry and lightly dredge in the flour mixture, shaking off any excess.
Heat 1 teaspoon of the oil in the skillet over medium heat and placed two fillets at a time in the pan.
Gently cook for 3-6 minutes, until the underside of the fish turns opaque.
Use a rubber spatula to flip the fillets and finish cooking.
Remove to a paper towel-lined plate.
Wipe any excess oil from the pan, and repeat with 1 tablespoon oil and the remaining two fillets.
To serve:
In a medium skillet over medium heat, heat the oil.
Add two tortillas at a time and toast on either side then set them on a plate.
Cut each fish fillet in half and divide the fish evenly among the 8 tortillas.
Top with a helping of the sautéed veggies and slaw.