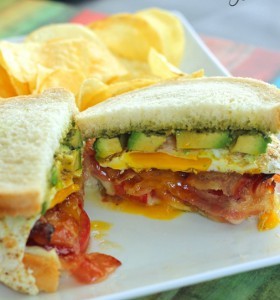 1 lb bacon
1/2 c. maple syrup I prefer using 100% pure
1/4 c. brown sugar
mozzarella cheese
2 ripe avocados 1/2 avocado per sandwich
2 to matoes
fresh pesto
4 eggs 1 per sandwich
8 slices of bread we used sourdough
At least an hour before you start preparing your meal, mix together the maple syrup and brown sugar in a small bowl. Cut the bacon slices into halves, make sure they are separated from each other, and place them all in a large plastic bag. Pour the syrup mixture over the bacon and seal. Place bag in the fridge to marinate.
Preheat oven to 400 degrees. After bacon has marinated for an hour, line a cookie sheet with aluminum foil and top that with a wire rack/cooling rack. Arrange 6 small slices of bacon into a weave (see picture below). Or you can just cook the pieces normally. Bake for about 20 minutes, or desired crispiness. Keep oven on.
While the bacon is cooking, slice the tomatoes and avocados. And cook the eggs over medium.
On another cookie sheet arrange the 8 slices of bread, 4 with sliced mozzarella cheese, 4 with a layer of pesto. Bake just until cheese begins to melt.
Arrange by a slice of cheese bread topped with the tomato, bacon, egg, avocado, and then topped with a pesto slice.
This recipe makes 4 sandwiches, you can adjust according to how many you actually need.