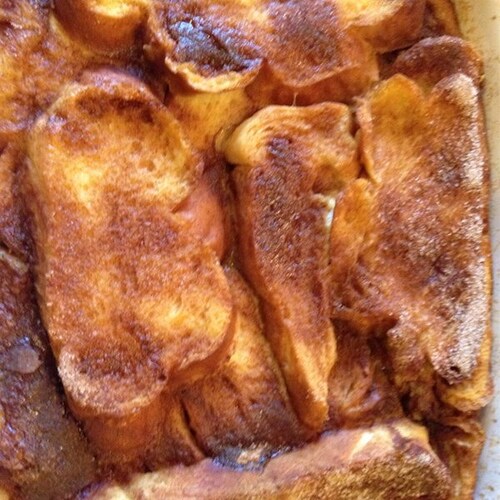 1 1/2 cups dark brown sugar
3/4 cup unsalted butter
6 tablespoons light corn syrup
1/8 teaspoon salt
3 cups whole milk
4 large eggs, beaten
1 1/2 teaspoons vanilla extract
1/4 teaspoon salt
3 tablespoons white sugar
1 1/2 teaspoons ground cinnamon
1 loaf of french bread cut in 1/2 inch slices
Lightly grease a 9x13-inch casserole dish.
Combine brown sugar, butter, corn syrup, 1/2 cup whole milk, and 1/8 teaspoon salt in a saucepan over medium heat; cook, stirring constantly, until sugar is dissolved and syrup is smooth, about 5 minutes. Pour syrup into the prepared casserole dish.
Arrange bread slices atop the syrup layer in the casserole dish.
Whisk 2 1/2 cups milk, eggs, vanilla extract, and 1/4 teaspoon salt in a bowl; pour milk mixture over bread. Cover casserole dish with plastic wrap and refrigerate 8 hours or overnight.
Preheat oven to 350 degrees F (175 degrees C). Remove plastic wrap from casserole dish.
Mix white sugar and cinnamon together in a small bowl; sprinkle mixture over casserole. Cover casserole with aluminum foil.
Bake in the preheated oven for 20 minutes. Remove aluminum foil and continue baking until casserole is cooked through and eggs are set, 25 to 30 minutes. The casserole will be syrupy, but should thicken as it cools.