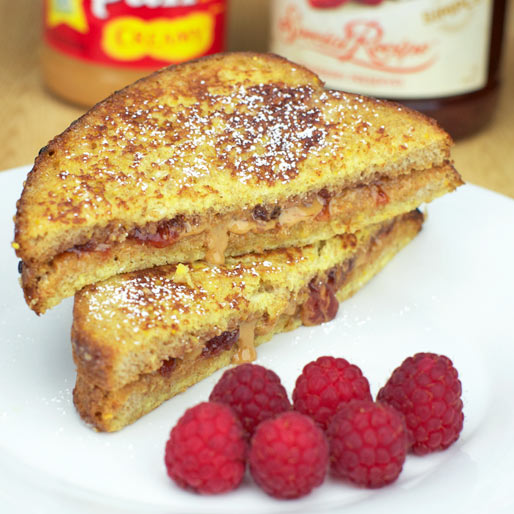 2/3 cup 2% reduced-fat milk
1 large egg, lightly beaten
1/2 teaspoon baking powder
1/2 teaspoon vanilla extract
1/8 teaspoon salt
8 slices white whole-wheat sandwich bread
1/2 cup strawberry preserves
6 tablespoons creamy peanut butter
1 tablespoon canola oil, divided
1 tablespoon powdered sugar
Combine first 5 ingredients in a medium shallow dish, stirring well with a whisk.
Place bread slices on a flat surface.
Spread 2 tablespoons preserves over each of 4 bread slices,
and spread 1 1/2 tablespoons peanut butter over each of the remaining 4 bread slices.
Assemble sandwiches.
Carefully dip 2 sandwiches in milk mixture, turning to coat.
Heat a large skillet over medium-high heat
Add 1 1/2 teaspoons canola oil to pan; swirl to coat.
Place coated sandwiches in pan; cook 2 minutes on each side or until toasted.
Remove sandwiches from pan.
Repeat procedure with remaining oil, 2 sandwiches, and milk mixture.
Sprinkle powdered sugar evenly over sandwiches and cut each sandwich in half diagonally.