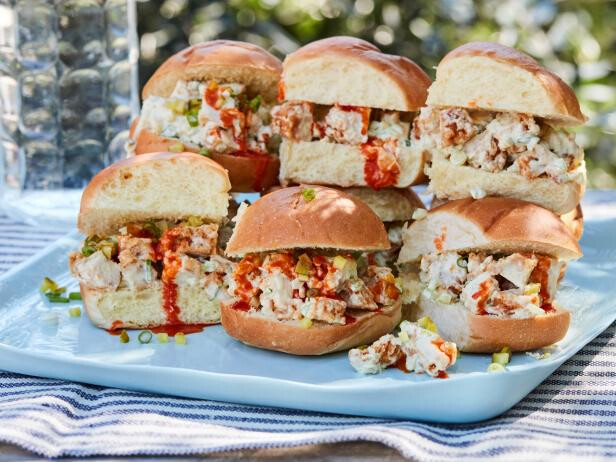 6 pieces cold fried chicken
2 stalks celery, finely chopped
2 scallions, thinly sliced
1 medium dill pickle, finely chopped, plus 1/3 cup plus 2 tablespoons dill pickle brine
1/2 cup mayonnaise
1/4 cup buttermilk
1 tablespoon yellow mustard
hot sauce, for seasoning
kosher salt
potato rolls, for serving
Remove and discard the bones from the chicken. Chop up the meat, with the fried skin, into small pieces (you should have about 6 cups).
Set aside 1 tablespoon each of the celery, scallions and pickle.
Whisk together the mayonnaise, pickle brine, buttermilk, yellow mustard and a couple dashes hot sauce in a large bowl. Stir in the remaining celery, scallion and pickle.
Add the chopped chicken to the bowl and stir gently to combine. Season with salt and more hot sauce if you'd like. Transfer to a large serving bowl and sprinkle with the reserved celery, scallion and pickle. Serve on potato rolls with a few dashes of hot sauce.