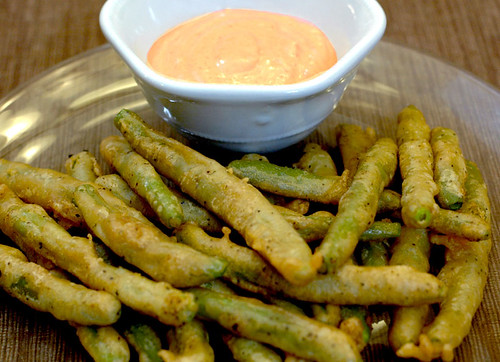 Bean Recipe
vegetable oil, for frying
1 cup beer
1 cup all-purpose flour
2 teaspoons salt, plus more for seasoning
1/2 teaspoon ground black pepper, plus more for seasoning
1 pound green beans
Preheat oil to 375 degrees F.
Dip green beans into batter to coat, letting excess drip off. Fry in the oil in batches, until they are golden and crisp. Remove from oil to a paper towel lined sheet tray. Sprinkle with salt and pepper.
Dip Recipe
1 cup mayonnaise
2 1/2 tablespoons sirachi chili sauce
6 green onions, whites only, coarsely chopped
4 garlic, coarsely chopped
1/2 teaspoon prepared horseradish
Place ingredients in blender or food processor and mix til smooth.