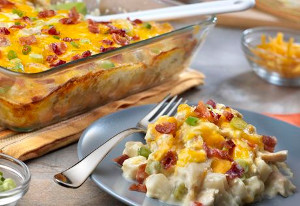 Vegetable cooking spray
1 can Cream of Chicken Soup
1 cup sour cream
2 cups shredded Cheddar cheese or Colby Jack cheese
1/2 cup milk
1/2 teaspoon garlic powder
1/4 teaspoon ground black pepper
1 (28-ounce) package frozen diced potatoes with onions and peppers, thawed
Salt
3 cups chicken, cooked and shredded
4 slices bacon, cooked and crumbled
2 tablespoons fresh chives or green onion, chopped
Preheat the oven to 375 degrees F. Spray a 13x9x2-inch baking dish with the cooking spray.
Stir the soup, sour cream, 1 cup cheese, milk, garlic powder and black pepper in a medium bowl.
Spread the potatoes in the baking dish. Season the potatoes with the salt and additional black pepper. Top with the chicken. Spread the soup mixture over the chicken. Cover the baking dish.
Bake for 40 minutes or until the potatoes are tender and the mixture is hot and bubbling. Uncover the baking dish. Sprinkle with the remaining cheese.
Bake, uncovered, for 5 minutes or until the cheese is melted. Sprinkle with the bacon and chives before serving.