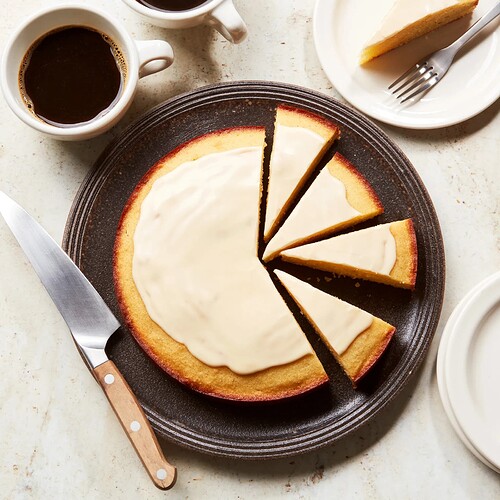 10½ Tbsp. (150 g) unsalted butter, at room temperature
½ cup (60 g) all-purpose flour
2 cups (200 g) almond flour
½ tsp. fine sea salt
¾ cup (150 g) sugar
Seeds from 1 small vanilla bean, or 2 tsp. pure vanilla extract
3 large eggs
3 Tbsp. dark rum (or lemon or orange juice)
For the glaze
6 Tbsp. (45 g) powdered sugar
2 tsp. dark rum (or lemon or orange juice)
Preheat the oven to 350°F (175°C).
Grease an 8-inch (20 cm) round cake pan with ½ teaspoon of the butter and dust the bottom and sides with 1 tablespoon of the all-purpose flour. Tap out the excess.
In a bowl, combine the almond flour, remaining all-purpose flour, and salt. In a medium bowl, combine the remaining butter and the sugar. Add in the vanilla and cream everything together. Whisk in the eggs, one by one, beating well between each addition. Whisk in the rum. Fold the dry ingredients into the wet without overmixing; the batter will be thick. Pour the batter into the prepared pan and tap it against the counter to settle. Bake until the top of the cake is golden and a cake tester inserted into the center comes out clean, 25 to 30 minutes.
Transfer to a rack and cool in the pan for 20 minutes. Run a knife around the cake to loosen and flip onto a serving plate so the bottom faces up. Cool completely before glazing.
Prepare the glaze:
Put the powdered sugar in a small bowl and stir in the rum. The glaze should be thick and creamy, not runny. Spread on the top of the cooled cake and let set for 1 hour before serving.