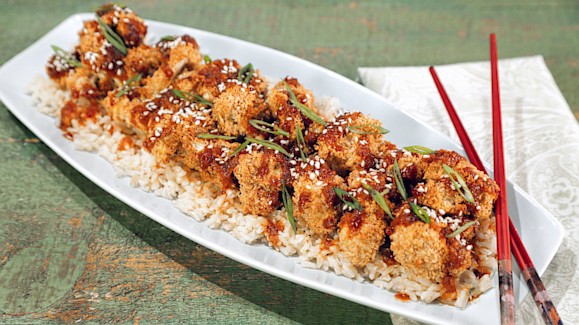 Cauliflower
1 head cauliflower (cut into florets)
1 1/2 cups rice flour
3 eggs whites (lightly beaten)
1 1/2 cups whole wheat panko
Sauce
1 tablespoon olive oil
1 teaspoon garlic (minced)
1 teaspoon ginger (peeled and minced)
2 tablespoons soy sauce
2 tablespoons chicken stock
1 tablespoon rice vinegar
1/2 lime (juiced)
2 teaspoons sriracha (substitute with hot sauce or chili flakes to taste)
2 tablespoons honey
sesame seeds (for garnish)
scallions (thinly sliced, for garnish)
Preheat oven to 400ºF. Line baking sheet with parchment paper.
Separate flour, egg whites and whole wheat panko breadcrumbs into three separate baking dishes. Season each with Kosher salt and freshly ground black pepper.
Dip cauliflower florets in flour, shaking off excess, dip into egg whites and finally dip into panko breadcrumbs, coating completely. Bake for 25-30 minutes until golden brown and tender.
For the Sauce: in a small saucepan, add the oil and place over medium-high heat. Add the garlic and ginger and cook for 1 minute, until fragrant. Add the soy sauce, chicken stock, rice vinegar, lime juice, sriracha and honey. Mix to combine and bring to a boil, reduce heat to low and simmer until slightly thickened, about 5 minutes. Drizzle over the baked cauliflower. Garnish with sesame seeds and scallions.
Tip:
Make the sauce ahead of time!
Use the same recipe with your favorite protein or vegetable!