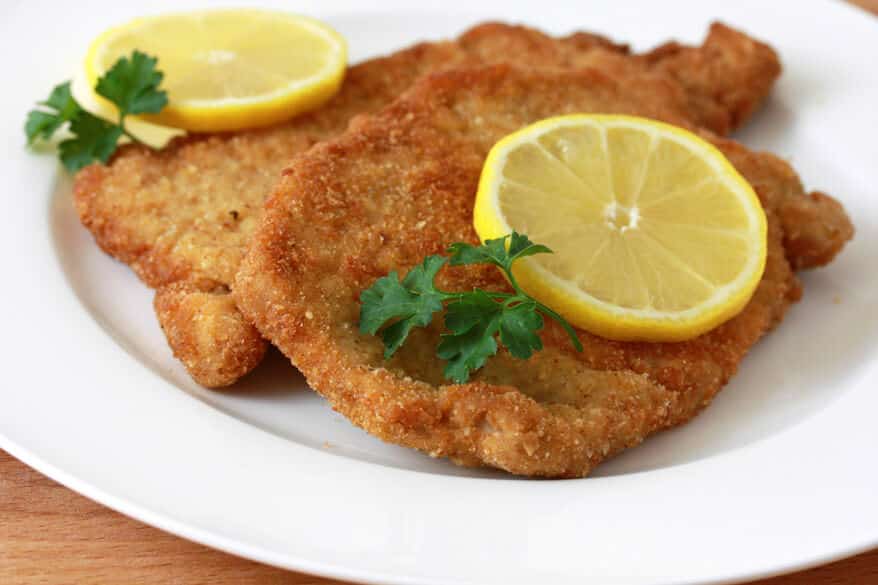 4 boneless pork chops
1 teaspoon salt
1/2 teaspoon black pepper
1 cup all-purpose flour
2 large eggs
1 tablespoon lemon juice
1 cup plain bread crumbs
Vegetable oil for frying
lemon slices for garnish
Lay the pork or veal chops out on a countertop between two layers of plastic wrap.
Pound out chops until 1/4 inch thick.
Season with salt and pepper.
Spread flour out into a shallow dish.
In another shallow dish, whisk eggs together with lemon juice.
In a third shallow dish, spread out bread crumbs.
Pour about 1/4 inch of vegetable oil into a large deep skillet.
Bring oil to 350 degrees F.
Dredge chops into flour to coat, then immediately dip into eggs to coat, followed by bread crumbs to coat.
Place chops into the hot oil and fry 3 to 4 minutes.
Work in batches if needed based on size of pan.
Gently flip over and cook for an additional 3 to 4 minutes on the other side until browned and crisp.