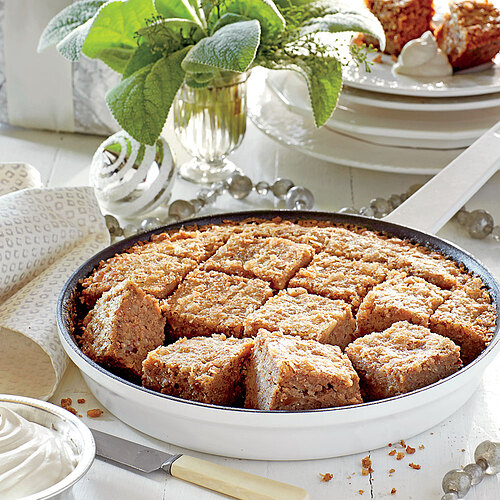 6 tablespoons turbinado sugar, divided
4 cups pecan halves, toasted
3 cups walnut halves, toasted
1 1/2 cups slivered almonds, toasted
3/4 cup finely ground plain white cornmeal
1 cup butter, softened
3/4 cup firmly packed light brown sugar
6 large eggs
3/4 cup buttermilk
1/2 cup half-and-half
1 teaspoon kosher salt
1 teaspoon vanilla extract
Coffee Cream
Preparation
Preheat oven to 350°. Sprinkle 3 Tbsp. turbinado sugar in a well-greased (with butter) 12-inch cast-iron skillet. Process pecans, walnuts, and almonds in a food processor until coarsely chopped; reserve 2 cups coarsely chopped nuts. Add cornmeal to remaining nuts in processor; pulse until nuts are finely chopped.

Beat butter and brown sugar at medium speed with an electric mixer 2 to 3 minutes or until light and fluffy.

Whisk together eggs and next 4 ingredients in a medium bowl. Gradually add egg mixture to butter mixture, beating at low speed 2 minutes or until blended, stopping to scrape bowl as needed. Gradually add cornmeal mixture to batter, beating until well blended; fold in reserved 2 cups coarsely chopped nuts. Spoon batter into prepared skillet. Level batter using an offset spatula, and sprinkle remaining 3 Tbsp. turbinado sugar over batter.

Bake at 350° for 45 to 55 minutes or until a wooden pick inserted in center comes out clean. Cool completely on a wire rack. Serve with Coffee Cream.
Make-Ahead Tip Gluten-Free Goodness: This deliciously dense cake uses ground heart-healthy nuts and cornmeal for structure. It actually tastes better as it sits and can be made up to 4 days ahead. Just whip the cream and serve.
Southern Living