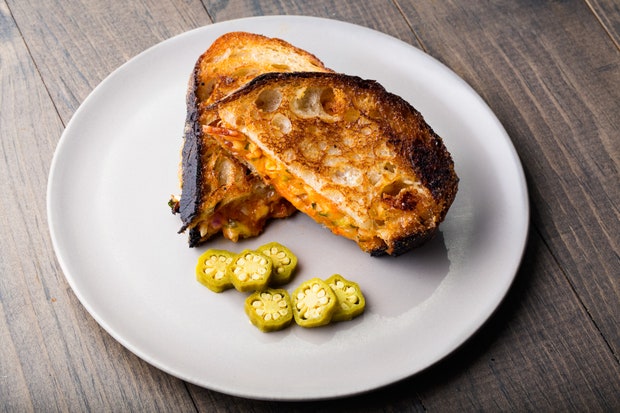 2 ounces grated Gruyère (about 6 tablespoons)
2 ounces grated white cheddar (about 6 tablespoons)
1 ounce grated fontina cheese (about 3 tablespoons)
2 garlic cloves, finely grated
2 tablespoons coarsely chopped fresh parsley
2 tablespoons gochujang (Korean hot pepper paste)
2 tablespoons mayonnaise (preferably Duke's)
1 tablespoon chopped red onion
2 slices pancetta (about 1 ounce)
4 slices good-quality crusty Italian bread, such as ciabatta
2 tablespoons mayonnaise
2 small pickled okra, thinly sliced
1/2 cup fresh bean sprouts
2 tablespoons olive oil
2 tablespoons unsalted butter
Make the cheese spread:
Mix Gruyère, white cheddar, fontina cheese, garlic, parsley, gochujang, mayonnaise, and onion in a medium bowl until well combined.
Assemble the sandwiches:
Heat a large cast-iron or non-stick skillet over medium-high. Fry pancetta until crispy and fat has rendered, 3-5 minutes per side. Wipe out skillet and reserve for sandwiches.
Spread 1 side of each slice of bread with 2 Tbsp. mayonnaise total (doing this before toasting helps ensure a golden brown and crispy grilled cheese). Flip 2 slices over so mayo side is face down. Divide cheese spread between these 2 slices. Top each slice with a piece of pancetta, half of sliced okra, half of bean sprouts, and a second slice of bread with the mayo on the outside of the sandwich.
Heat reserved skillet over medium-high. Combine oil and butter, stir until butter is melted, and immediately add sandwiches. Cover skillet with a lid or baking sheet to properly melt cheese; toast until bread is crispy and browned, 3–5 minutes per side. Cut sandwiches in half and serve immediately.