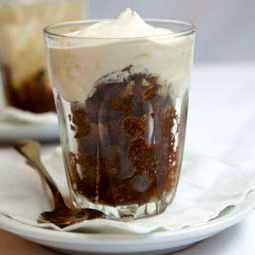 I cup freshly-brewed, strong (espresso-style) Godiva coffee (about 8 shots)
4 teaspoons sugar
½ cup whipping cream
Stir sugar into the hot coffee and stir well to dissolve.
Then pour the coffee into a freezer-proof container or dish and freeze for 30 to 40 minutes, until the coffee starts to form crystals.
Remove the dish from the freezer and scrape with a fork to break apart the crystals.
Return the coffee to the freezer, removing and stirring it vigorously every 15 minutes or so,
until the coffee is thoroughly frozen and splintery like sorbet. This should take about I hour in total.
If made well in advance just keep scraping periodically to keep crystals separated otherwise they will solidify into a block of coffee ice.
Using an electric hand mixer or a standing mixer fitted with a whisk attachment beat whipping cream.
Start slowly, gently increasing the speed as you go.
If you set the mixer on high at first, you'll have cream all over the place.
Set the mixer so it goes as fast as possible without splashing.
Whip the cream until soft peaks form making sure not to over-beat else the cream will then become lumpy and butter-like.
Spoon the granite into the bottom of each serving glass and finish off each glass with 1 heaping tablespoon of whipped cream.
Serve immediately garnished with cinnamon or shaved chocolate, if desired.