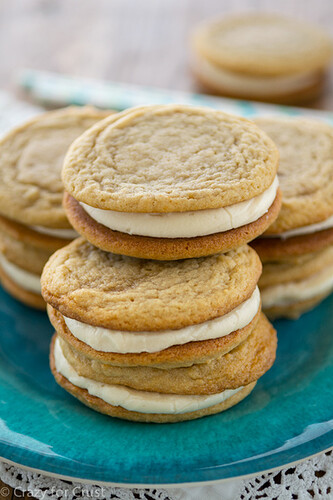 For the cookies:
1/2 teaspoon baking soda
1/4 teaspoon salt
2 cups all-purpose flour
1/2 cup unsalted butter, softened
2/3 cup light brown sugar, packed
1/4 cup granulated sugar
1 tablespoon vanilla extract (or vanilla bean paste)
1 egg
For the filling:
1/4 cup unsalted butter, softened
2 cups powdered sugar
1 tablespoon vanilla extract (or vanilla bean paste)
2 tablespoons heavy whipping cream
Whisk baking soda, salt, and flour in a medium bowl. Set aside.
Cream butter and sugars in the bowl of a stand mixer fitted with the paddle attachment (or using a hand mixer). Cream until fluffy, about 1 minute.
Add egg and vanilla and mix until combined. Slowly mix in dry ingredients, scraping the sides of the bowl as necessary.
Line a cookie sheet with parchment paper or a silicone baking mat. Scoop 2 tablespoon cookie balls onto the cookie sheet. There's no need to space them out, you're going to chill them, so they can be close together. Wrap well with plastic wrap and chill for at least 4 hours or overnight.
Preheat oven to 350°F. Line two cookie sheets with parchment or silicone baking mats. Place chilled cookie dough balls at least 2" apart on the cookie sheets. These will spread. I put about 8-9 per sheet.
Bake for 9-11 minutes, until the edges are golden. Remove from the oven and tap the cookie sheets on the top of the stove lightly to flatten the cookies a bit. Let cool completely before frosting.
To make the frosting: mix butter with a hand mixer until creamy and smooth. Mix in powdered sugar slowly until crumbly. Add vanilla and 1 tablespoon heavy whipping cream and mix until smooth. Add up to 1 more tablespoon of cream to get the right spreading consistency for your frosting.
Frost the bottoms of half the cookies, then sandwich with another cookie. Store in an airtight container for up to 4 days.