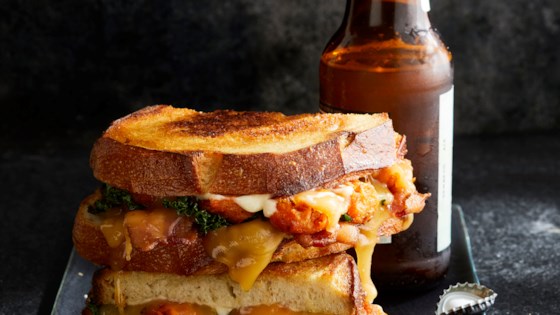 16 frozen sweet potato puffs (such as Alexia®)
1 tablespoon vegetable oil
2 tablespoons butter, divided
4 leaves kale, coarsely chopped
1/4 teaspoon salt
1/4 teaspoon ground black pepper
4 slices sourdough bread
2 tablespoons mayonnaise
8 (1/2 ounce) slices Sriracha-flavored Gouda cheese (such as Roth®)
3 slices crisp-cooked bacon, halved
Preheat the oven to 450.
Toss tots with oil on a baking sheet.
Bake, turning over halfway through, until browned, about 24 minutes.
Meanwhile, heat 1 tablespoon butter in a large skillet over medium heat.
Stir in kale, salt, and pepper; cook until kale is wilted and lightly browned in places, about 5 minutes.
Transfer kale to a plate and wipe skillet clean.
Spread 2 bread slices with mayonnaise, then top each with 2 slices cheese and 1/2 of the bacon and kale.
Add tots, pressing lightly, then top each sandwich with remaining cheese and bread.
Melt remaining 1 tablespoon butter in skillet over medium heat.
Add sandwiches; cook, lightly pressing with a spatula, until cheese is melted and bread is golden brown, about 3 minutes per side.