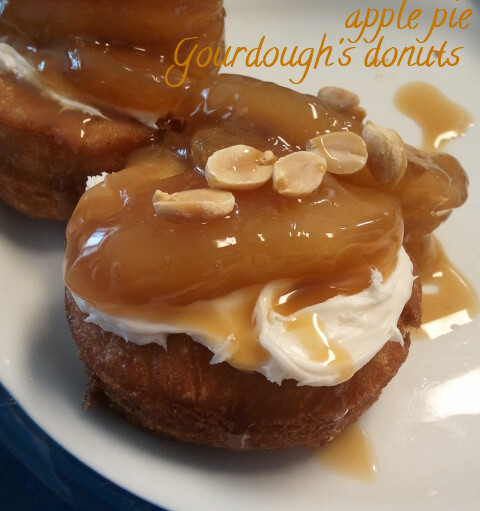 For the Doughnut:
1 pkg Pillsbury Grands Biscuits
canola oil
For the Frosting:
1/4 cup unsalted butter, softened
4 oz cream cheese, softened
3 cup powdered sugar
1-2 Tbsp milk
For the Apple Pie Filling:
1 1/2 cup sliced apples (I used Crunchpak)
1/3 cup granulated sugar
1 1/2 Tbsp cornstarch
1/4 tsp ground cinnamon
1/4 tsp kosher salt
pinch of nutmeg
3/4 cup water
For the garnish:
1/4 cup caramel ice cream topping
1/2 cup dry roasted peanuts, salted
In a large, heavy bottomed skillet, heat oil about 1/2-3/4 inch high. Depending on your size skillet will determine how much oil is necessary. Bring oil to a sizzle when you drop a couple drops of water into it.
Separate biscuits and using a one inch circle cutter (I used a cannoli tube) pop center hole out of each biscuit so it resembles a donut. Fry each biscuit for 2-3 minutes each side. Allow to cool and dry on paper towels.
While donuts are cooling, prepare apple pie filling (or use jarred/canned to save time). In a small saucepan, bring sugar, cornstarch, cinnamon, salt, nutmeg and water to a boil. Boil for 2 minutes, whisking constantly. Add apple slices (or diced) and reduce heat to simmer. Cover and simmer for about 6-8 minutes, until apples are fork tender. Remove from heat and cool.
For the frosting, beat butter and cream cheese for 3 minutes until fluffy. Add powdered sugar and milk and beat an additional 3-5 minutes.
To assemble, frost cooled doughnut with cream cheese frosting. Top with cooled apple pie filling, peanuts and caramel sauce (divide evenly among the 8 doughnuts).