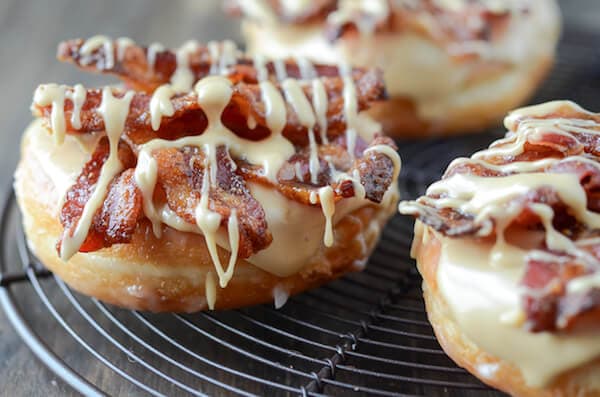 2 tablespoons water, warmed
1.25 oz envelope fast-rise yeast
3/4 cup whole milk, warmed
1/4 cup granulated sugar
1/2 teaspoon salt
1 large egg
3 tablespoons shortening or lard
2 1/2 cups all-purpose flour
vegetable oil or peanut oil, for frying
1 1/2 tablespoons whole milk (possibly more)
2 tablespoons pure maple syrup
1/2 teaspoon maple extract
2 cups powdered sugar
1 lb center cut bacon
2/3 cup brown sugar
2 teaspoons freshly cracked black pepper
1 teaspoon kosher salt
Donut:
In the bowl of your stand mixer with the paddle attachment (or a large bowl if you are going to kneed the dough by hand), whisk together yeast and warm water and let stand for 5 minutes.
Add milk, sugar, salt, egg, shortening, and 1 cup of flour. Mix on medium low for 2 minutes, then switch to the dough hook. Slowly add the remaining 1 1/2 cups flour a half a cup at a time. Once you have added all the flour, knead on medium for 2-3 minutes, until dough no longer sticks to the bowl. Turn up the speed to medium high and continue to knead dough for 3-4 minutes, until dough is smooth.
Transfer dough to a greased bowl and cover with a slightly damp tea towel. Place bowl in a warm area (or a preheated oven to 200 degrees and then turned off) for about one hour. Dough is ready when it has doubled in size.
Transfer raised dough onto a lightly floured surface and carefully roll out till it is 1 inch thick. Cut out doughnuts with a floured 4 inch biscuit cutter and then cut out the center of each donut with a floured 1-2 inch biscuit cutter.
Place donuts and donut holes on a lightly floured cookie sheet and cover again with a slightly damp tea towel. Place in a warm area (or a preheated oven to 200 degrees and then turned off) for about one hour. Dough is ready when it has doubled in size.
Heat oil in a large, deep skillet or deep fryer to 350 degrees.
Once oil is hot, working with 4-6 donuts at a time, carefully drop donuts into oil. Fry for 1 to 2 minutes, or until golden brown and flip and fry the other side.
Remove and drain on a paper towel (or newspaper) lined plate. Continue this process until each donut has been fried.
Maple Glaze:
Place wax paper under a wire rack to collect any drippings for an easy clean up. Then, in a small bowl whisk together milk, maple syrup and maple extract. Add powdered sugar, whisking until smooth. If icing is to stiff, add a teaspoon of milk at a time until desired consistency is reached.
While the donuts are still warm, dip the tops of each donut and donut hole into the icing and transfer to a wire rack and let set for 5 minutes. Save any remaining frosting to drizzle on top of the completed donut.
Candied Bacon:
Preheat the oven to 375°F. Line a large cookie sheet with aluminum foil, and position a cooling rack on top of pan. Lightly spray the rack with non-stick spray (or grease with oil).
Combine the brown sugar, black pepper and salt in a shallow plate/dish. Press each side of each slice of bacon firmly into the spiced sugar to coat well.
Arrange the slices of bacon on top of the rack in a single layer. If there is any sugar remaining in the dish, sprinkle it on top of the bacon slices evenly.
Bake until the bacon is crisp and the sugar is bubbly, about 20 minutes. Let cool for 5 minutes and then cut each strip in half.
Arrange candied bacon on top of donuts and drizzle the top with any remaining maple glaze. Serve immediately!