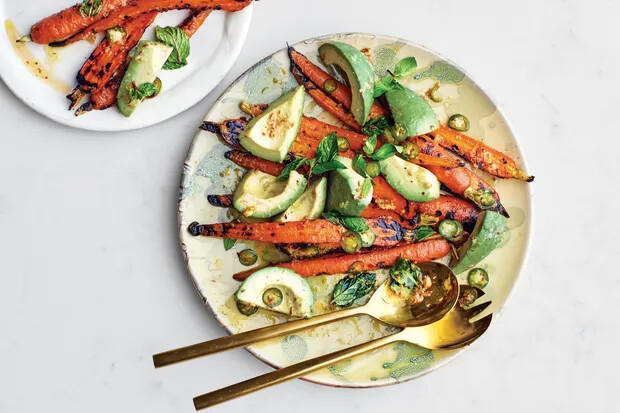 1 tsp. cumin seeds
3 Tbsp. fresh lemon juice
2 tsp. honey
¼ cup plus 2 Tbsp. extra-virgin olive oil
1 serrano chile, seeds removed if desired, thinly sliced
1 (1") piece ginger, peeled, finely grated
Kosher salt
1½ lb. medium carrots with tops (about 5), tops trimmed to about ½", scrubbed, halved lengthwise
2 avocados, cut into large pieces
½ cup mint leaves
Prepare a grill for medium heat. Toast cumin seeds in a dry small skillet over medium heat, tossing often, until fragrant, about 2 minutes. Let cool.
Coarsely crush cumin seeds with a mortar and pestle (or on a cutting board with the flat side of a chef's knife). Transfer to a large bowl. Add lemon juice and honey. Whisk in ¼ cup oil, then add chile and ginger. Season dressing with salt. Let sit while you grill carrots (this will give the chile and ginger time to infuse into dressing).
Toss carrots and remaining 2 Tbsp. oil on a rimmed baking sheet to coat; season with salt. Grill carrots, turning occasionally, until lightly charred in spots and tender, 14–18 minutes. Immediately transfer carrots to bowl with dressing and toss to coat. Taste and season with more salt if needed.
Arrange carrots and avocados on a platter and spoon any dressing left in bowl over. Top with mint.