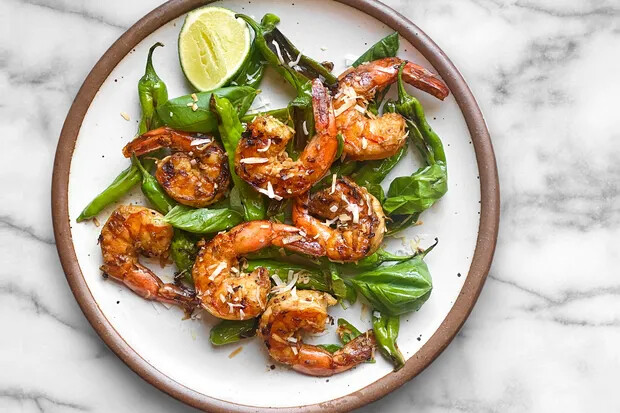 6 garlic cloves, finely grated
1 Tbsp. finely grated lime zest
¼ cup low-sodium or tamari soy sauce
¼ cup grapeseed or vegetable oil, plus more for grill
1 lb. large shrimp, peeled, deveined, preferably with tails left on
½ cup toasted unsweetened shredded coconut, plus more for serving
8 oz. shishito peppers
½ cup basil leaves
¼ cup fresh lime juice
Flaky sea salt
Stir together garlic, lime zest, soy sauce, and ¼ cup oil in a medium bowl. Add shrimp and toss to coat. Add ½ cup coconut and toss again to coat. Let sit while grill heats, at least 5 minutes and up to 30 minutes.
Prepare a grill for high heat, lightly oil grate.
Carefully arrange shrimp in an even layer on grate. Grill, carefully turning halfway through, until opaque and lightly charred, about 2 minutes. Some of the coconut will fall off in the process, and that's okay. Transfer to a serving platter.
Grill peppers, turning occasionally and being careful not to let them fall through grate, until lightly charred all over, about 6 minutes. Transfer to platter with shrimp.
Top shrimp and peppers with basil, drizzle with lime juice, and sprinkle with sea salt and more coconut.