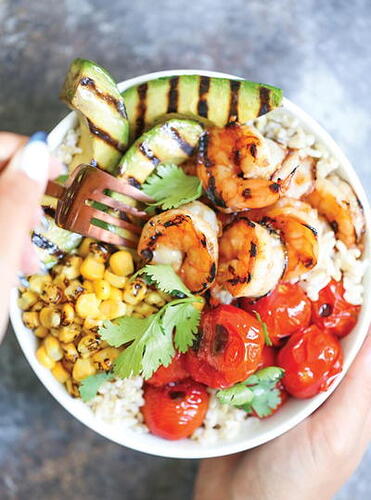 1 cup brown rice
1/4 cup honey
2 tablespoons reduced sodium soy sauce
4 cloves garlic, minced
1 tablespoon freshly grated ginger
Zest of 1 lime
1 teaspoon Sriracha
1 pound medium shrimp, peeled and deveined
1 avocado, halved, peeled, sliced
1 1/2 cups cherry tomatoes
2 tablespoons olive oil
Kosher salt and ground black pepper, to taste
1 cup corn kernels, frozen, canned or roasted
2 tablespoons chopped fresh cilantro leaves
In a large saucepan of 2 cups water, cook rice according to package instructions; set aside.
In a small bowl, whisk honey, soy sauce, garlic, ginger, lime zest and Sriracha.
Reserve 2 tablespoons and set aside.
In a gallon size Ziploc bag or large bowl, combine honey mixture and shrimp; marinate for at least 1 hour, turning the bag occasionally.
Drain the shrimp from the marinade.
Preheat grill to medium high heat.
Add shrimp to grill and cook, flipping once and basting with reserved marinade until cooked through, about 2-3 minutes on each side.
Brush avocado and tomatoes with olive oil.
Add to grill and cook, flipping once, until charred, about 1-2 minutes; season with salt and pepper, to taste.
Serve shrimp immediately with rice, avocado, tomatoes and corn, garnished with cilantro, if desired.