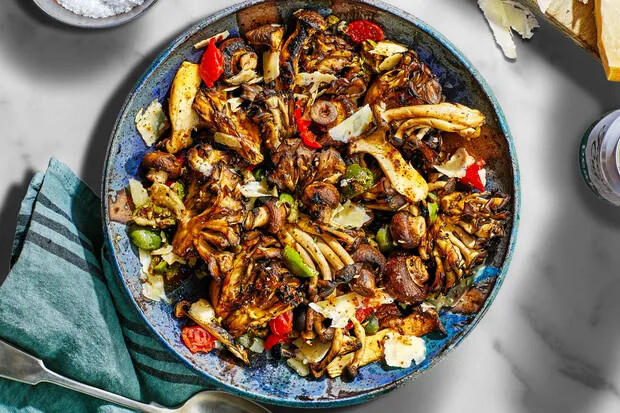 2 lb. assorted mushrooms (such as crimini, shiitake, and/or maitake), wiped clean, trimmed, torn into big pieces if large
7 Tbsp. extra-virgin olive oil, divided
Kosher salt
2 Tbsp. Champagne vinegar or white wine vinegar
1 tsp. Aleppo-style pepper
1 tsp. dried oregano
1 garlic clove, finely grated
Freshly ground black pepper
2 oz. Parmesan, shaved
½ cup Castelvetrano olives, coarsely chopped
¼ cup drained Peppadew peppers in brine, coarsely chopped
Prepare a grill for high heat. Toss mushrooms and 3 Tbsp. oil in a large bowl to coat. Grill, turning occasionally with tongs, until lightly charred, 2–6 minutes (depending on size and type). Return to bowl; season with salt.
Whisk vinegar, Aleppo-style pepper, oregano, garlic, and remaining 4 Tbsp. oil in a small bowl to combine; season vinaigrette with salt and black pepper. Pour over mushrooms and toss to coat. Add Parmesan, olives, and Peppadew peppers; gently toss to combine.