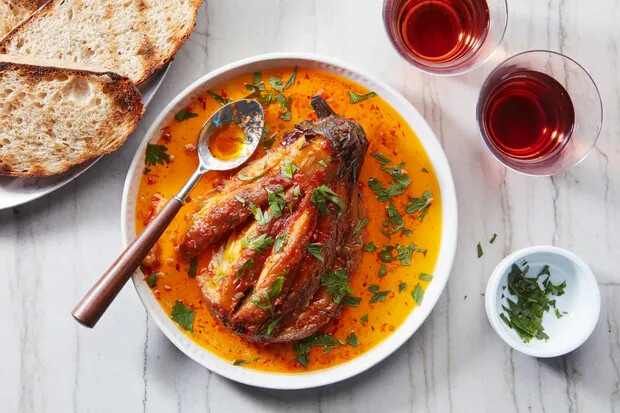 1 large eggplant (about 1 1/2 lb.)
1 tsp. kosher salt, divided
1/4 cup extra-virgin olive oil
1 Tbsp. fresh lemon juice
1 Tbsp. harissa paste
1 Tbsp. honey
1/4 cup chopped parsley
4–6 (1"-thick) slices crusty bread, toasted on grill if desired
Prepare a charcoal fire in a grill. Let coals cool to medium heat (coals should be covered with ash and glowing red with no black remaining).
Grill eggplant directly on coals, turning occasionally, until skin is blackened and flesh has collapsed, 15–20 minutes. (Alternatively, grill on the grate of a gas or charcoal grill over medium-high heat, turning occasionally, 20–25 minutes.) Transfer to a wire rack set inside a rimmed baking sheet and let cool slightly.
Carefully remove skin from eggplant, leaving stem intact. Season on all sides with 1/2 tsp. salt. Let sit on rack until excess water is drained, 20–30 minutes.
Whisk oil, lemon juice, harissa, honey, and remaining 1/2 tsp. salt in a small bowl to combine.
Using a paring knife, make several slits down length of eggplant on each side. Transfer to a plate and pour dressing over. Top with parsley and serve with bread alongside.