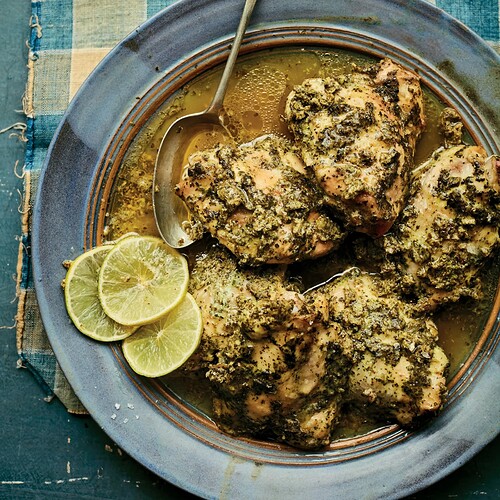 1⁄2 bunch fresh cilantro leaves and stalks, chopped
1⁄2 bunch fresh mint leaves, chopped
5 green chiles (not the bird's eye variety, which are too fiery)
1¼ cups (300 ml) full-fat Greek-style yogurt
12 bone-in chicken thighs, skin removed
3 tsp. salt
3 1⁄2 Tbsp. butter
1 lime, sliced, to serve
To make the marinade, use a mini food processor or hand blender to blend the chopped herbs and chiles with the yogurt.
Put the chicken in a bowl, add the marinade to cover it completely, then cover the bowl and leave in the fridge for at least 2 hours, preferably 6 hours, or overnight. Remove from the fridge at least 30 minutes before cooking.
Preheat the oven to 350°F. Line a roasting pan with a large piece of foil that overhangs the edges.
Season the marinated chicken with the salt and place in the lined roasting pan. Dot with the butter. Fold the foil over the chicken and bake for 1½ hours.
Open up the foil and cook for a further 15 minutes to reduce the liquid. Serve with slices of lime.