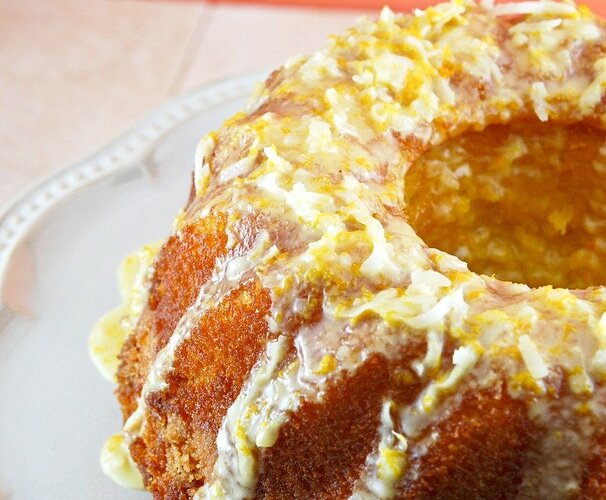 Cake:
1 box (about 18.75 ounces) yellow cake mix
1 cup vegetable oil
4 large eggs
¼ cup Galliano® liqueur
¼ cup vodka
1 package (3-ounces) vanilla instant pudding mix
¾ cup fresh orange juice
Glaze:
1 cup sifted powdered sugar
1 Tablespoon fresh orange juice
1 Tablespoon Galliano
1 teaspoon vodka
Preheat oven to 350 F. Grease and flour a Bundt pan or spray with floured vegetable spray.
Place cake mix, oil, eggs, liqueur, vodka, pudding mix, and orange juice into a large mixing bowl. Beat on medium speed fo 3 minutes.
Pour evenly into prepared Bundt pan and tap gently on the counter to release any air bubbles. Bake for 45 to 50 minutes. A toothpick inserted in the center should come out clean. (Do not overbake or it will become dry.) Let rest for 5 minutes. Gently loosen edges around the rims with a thin rubber spatula. Invert and unmold from Bundt pan onto a cake platter, then glaze while warm.
For the glaze, mix powdered sugar, orange juice, liqueur, and vodka until smooth. (If it is too thick, add more orange juice a few drops at a time to get a drizzling consistency. If it is too thin, add more powdered sugar a teaspoon at a time.) Drizzle over the warm cake and let cool to room temperature for glaze to set.