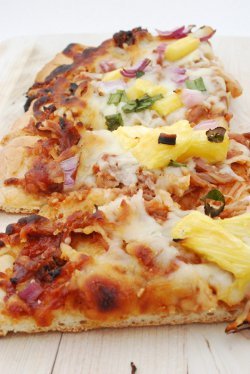 1/2 batch of pizza dough, or one large pre-made crust.
1 cup pulled pork
1/2 cup BBQ sauce
1/2 cup pineapple, diced
1/4 cup red onion
2 Tbs scallions, chopped fine
8 oz mozzarella cheese
cornmeal
Preheat oven to 500F with a large baking sheet in the oven for at least 30 minutes.
Place a sheet of parchment paper on a separate baking sheet and sprinkle it with cornmeal.
Toss the pork with the BBQ sauce in a medium bowl.
On a lightly floured surface roll out your pizza into desired shape.
My pizza dough decided to be a rectangle this day. I let it do it's thing.
Place pizza dough onto the prepared parchment paper.
Next, lay down a thin layer of BBQ sauce.
Evenly distribute BBQ pork on top, followed by pineapple, red onion, scallions and finally the cheese.
Carefully transfer the pizza (with the parchment paper) from the cooled baking sheet to the baking sheet in the oven.
Bake for approximately 15 minutes, or until the cheese is browned.