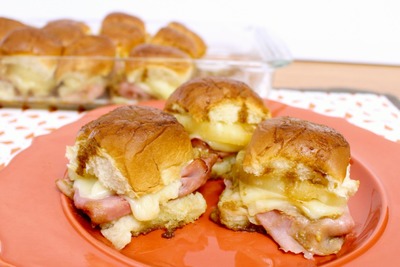 1 package (12 count) KING'S HAWAIIAN rolls
1 pound deli sliced ham
1/2 pound Swiss cheese, thinly sliced
1 (20-ounce) can sliced pineapple, each slice cut in half
1/2 cup unsalted butter, melted
3 tablespoons Worcestershire sauce
2 tablespoons mustard
2 tablespoons brown sugar
dash onion powder
Cut each roll in half, lengthwise. Arrange the bottom halves on the bottom of a greased 9 x 13-inch baking pan or baking sheet.
Layer each roll with ham slices, cheese and a pineapple half. Place the top half of the rolls back on.
In a bowl, mix together the butter, Worcestershire, mustard, brown sugar and onion powder. Pour sauce over sandwiches, drenching each one. Cover tightly and marinade at least 4 hours or overnight.
Preheat oven to 350 degrees F. Bake for 15 minutes uncovered, or until cheese is melted and bun tops are golden.