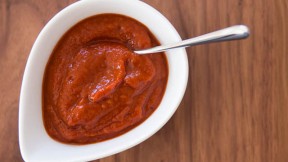 1/2 cup roasted red bell peppers
1 tablespoon olive oil
1 small onion, minced
1 stalk celery, minced
1 teaspoon grated ginger
2 medium cloves of garlic grated
1/4 cup packed dark brown sugar
2 tablespoons mild honey
14 ounce can tomato sauce (or whole stewed tomatoes pureed)
1/4 cup cider vinegar
2 tablespoons tomato paste
1-2 teaspoons salt (to taste)
2 cloves
1/2 teaspoon coriander seeds
1/8 teaspoon ground nutmeg
1/8 teaspoon white pepper
Add the olive oil to a heavy bottomed pot or frying pan, and sauté the onions, celery, ginger, and garlic over medium heat until they are just starting to turn brown around the edges. Add the red bell peppers, dark brown sugar and honey. Cook, stirring until the sugar has melted.
Add the tomato sauce, vinegar, tomato paste, salt, cloves, coriander seeds, nutmeg, and white pepper. Gently simmer over low heat, stirring regularly, until you can run a spatula along the bottom of the pan and it leaves a trench in the ketchup (about 45 minutes). Turn off the heat and allow the mixture to cool.
Add the cooled mixture to a food processor or blender and process until smooth. I like having a little texture so I use it as is, but if you want your ketchup silky smooth, pass the blended mixture through a fine mesh sieve and discard the solids.
Lidia Bastianich