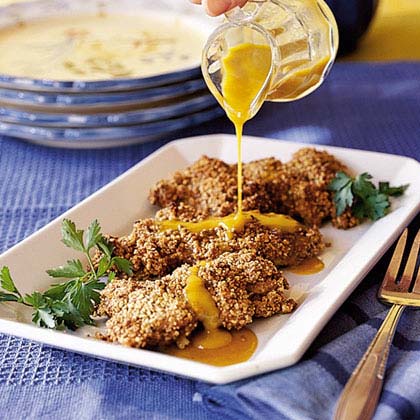 1/2 teaspoon salt
1/2 teaspoon ground black pepper
1/2 teaspoon ground red pepper
1/2 teaspoon dried thyme
8 skinned and boned chicken thighs
3/4 cup honey, divided
3/4 cup Dijon mustard, divided
2 garlic cloves, minced
1 cup finely chopped pecans
1/2 teaspoon curry powder
Garnish: Italian parsley sprigs
Combine first 4 ingredients; sprinkle evenly over chicken in a shallow dish.
Stir together 1/2 cup honey, 1/2 cup mustard, and garlic; pour over chicken.
Cover and chill 2 hours.
Remove chicken from marinade, discarding marinade.
Dredge chicken in pecans; place on a lightly greased rack in an aluminum foil-lined broiler pan.
Bake at 375° for 40 minutes or until chicken is done.
Stir together remaining 1/4 cup honey, remaining 1/4 cup mustard, and curry powder; serve sauce with chicken.
Garnish if desired.
Southern Living