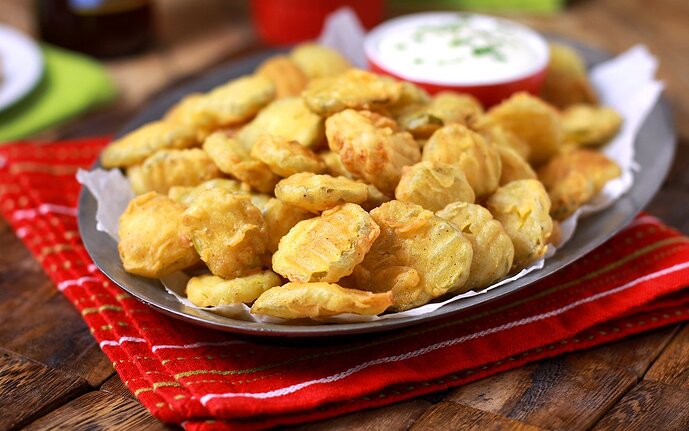 1 (16-oz) jar dill pickles
1 cups buttermilk
1 large egg
4 dashes hot sauce
1 cup all-purpose flour
¼ tsp paprika
½ tsp garlic powder
½ tsp cayenne pepper
Cooking oil
Preheat about 2-inches of oil in a large (8 quart) pot to 350°F.
Prepare a tray with double paper towel stack. Set aside.
In a medium bowl combine buttermilk, egg, and hot sauce.
Beat with a fork to combine.
Drain pickle juice from pickle jar, add pickles to buttermilk mixture.
Stir to combine.
In a separate bowl whisk together flour, paprika, garlic powder and cayenne pepper.
Add about a handful of pickles to flour mixture.
Swirl pickles around and make sure they are well coated.
Shake off excess flour and drop pickles in hot oil one at a time.
Only put 7-8 pickles at a time so the temperature does not drop too much.
Fry pickles for 3-5 minutes until they are golden brown.
Remove from oil with a slotted spoon and drain on a tray lined with paper towels.
Note
Stir flour mixture between batches and pull out dough chunks to keep coating from getting chunky.