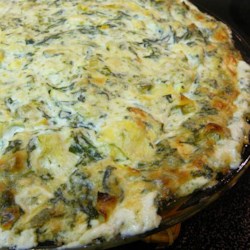 2 (8 ounce) packages cream cheese, softened
1/2 cup mayonnaise
1 (4.5 ounce) can chopped green chiles, drained
1 cup freshly grated Parmesan cheese
1 (12 ounce) jar marinated artichoke hearts, drained and chopped
1/4 cup canned chopped jalapeno peppers, drained
1 (10 ounce) box frozen chopped spinach, thawed and drained
Preheat oven to 350 degrees F (175 degrees C).
Mix together the cream cheese and mayonnaise in a bowl until smooth. Stir in the green chiles, Parmesan cheese, artichokes, peppers, and spinach. Spoon the mixture into a baking dish.
Bake in preheated oven until slightly browned, about 30 minutes.