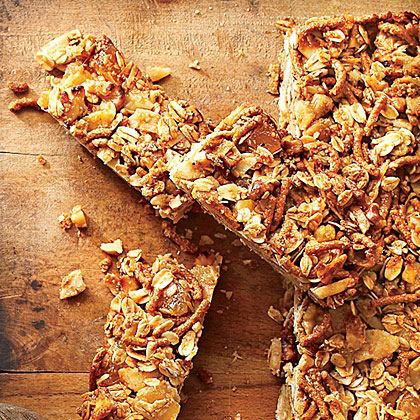 1 1/2 cups uncooked regular oats
1 cup high fiber cereal
1 cup chopped toasted walnuts
1 cup chopped dried banana chips
1/2 cup chopped dried pineapple
1/2 cup unsweetened shredded or flaked coconut
1/2 cup oat bran
1/2 teaspoon table salt
1/4 cup firmly packed light brown sugar
1/4 cup honey
2 tablespoons light corn syrup
2 tablespoons olive oil
1 teaspoon vanilla extract
2 large egg whites
Parchment paper
Preheat oven to 300°. Stir together uncooked oats, cereal, walnuts, banana chips, pineapple, coconut, oat bran, and salt in a small bowl. Microwave brown sugar, honey, corn syrup, olive oil, and vanilla in a large microwave-safe bowl at HIGH 1 minute. Pour warm honey mixture over oat mixture, stirring to coat. Whisk egg whites, and stir into oats mixture. Press into a lightly greased parchment paper-lined 9-inch square pan. Bake 50 minutes or until brown. Cool completely in pan on a wire rack (about 45 minutes). Cut into 16 squares.
Note: We tested with Fiber One for high-fiber cereal.
Southern Living