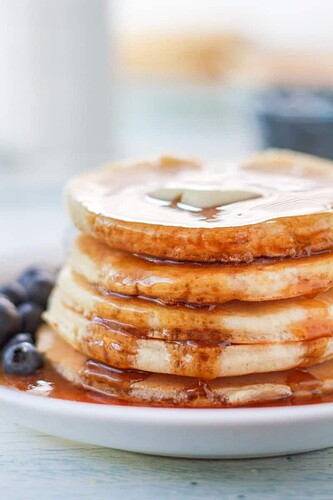 Ingredients:
1 1/4 C. Flour
1 1/2 tsp. Baking Powder
2 1/2 tsp. Sugar
1/2 tsp. Salt
1/2 tsp. Baking Soda
1/8 C. Vegetable Oil
1 Egg ( slightly beaten )
1 1/2 C. Buttermilk ( 1/8 - 1/4 C more if needed to keep batter thinner )
Preparation:
Place first five ingredients into a bowl, add buttermilk, oil and egg. With a spoon mix all ingredients and beat until smooth.
Heat a frying pan or a griddle. Fry pancake on medium low heat. To a hot pan or griddle pour a little oil or spray with a none stick vegetable oil.
Pour batter to a desired size. Let batter start to show small bubbles on top before you turn pancake over to finish cooking.
Turning pancakes is made much easier if you spray your pancake turner with a none stick spray. The turner does not stick to the uncooked dough of pancake when you are turning them. If batter seams to be to thick add a little more buttermilk and mix well.
This recipe makes about nine 4" - 5" pancakes. Serve warm with your favorite syrup.