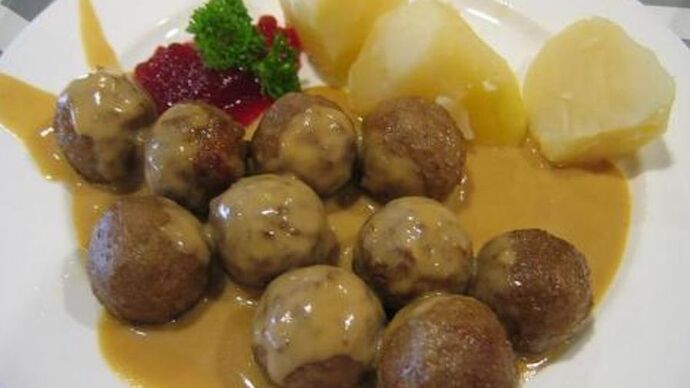 2 1/2 pounds Russet potatoes peeled and cut into cubes
1 pound ground beef
1 pound ground pork
1 egg
2 tablespoons heavy cream
1/2 cup chopped white onion
1 teaspoon salt
1/2 teaspoons ground white pepper
1/2 cup flour
4 ounces butter divided use
2 teaspoons soy sauce
2 teaspoons Worcestershire sauce
1 cup water
1/2 cup heavy cream
bread crumbs if needed
Place potatoes into a large pot, add enough water to cover the potatoes.
Cook potatoes over medium-high heat.
Cook potatoes for 8 to 10 minutes or until they are tender.
Drain, and set aside.
In a small skillet heat together 2 teaspoons of butter and chopped white onion.
Cook until tender, but do not let the onion brown.
In a large bowl combine ground beef, ground pork, 1 egg, heavy cream, cooked onion, salt, and white pepper.
Add 3/4 cup cooked potato to the bowl. Use a mixer to combine the mixture.
Blend until the meatball mixture is smooth.
If the mixture is sticky add about 1/4 cup bread crumbs.
Form small balls out of the meat mixture.
Drop the meatballs into flour and roll gently in the flour.
Cook the meatballs in a large skillet with a tablespoon of butter.
Turn the meatballs every few minutes while cooking so they cook evenly.
Cook the meatballs for 15 minutes or until done.
The meatballs will be browned on all sides when they are finished.
To make the gravy, you may need to add another tablespoon of butter to the skillet.
Add 2 tablespoons of flour to the skillet. Cook the roux for about two minutes.
Add the water and the heavy cream to the roux stir continually over medium heat.
The sauce will thicken.
Add soy sauce and Worcestershire sauce to the gravy.
Cook and heat through.