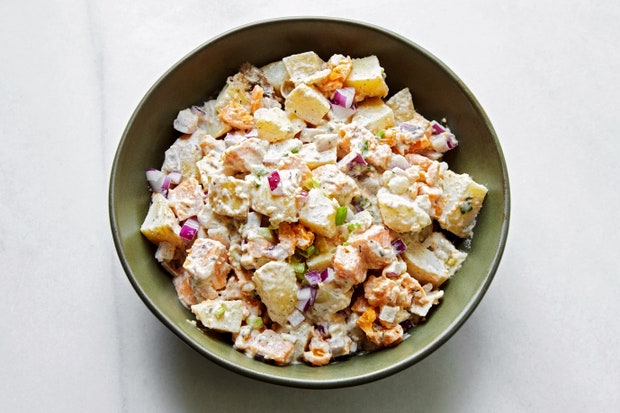 Zest and juice of 2 limes
2 habanero chiles (with seeds), finely chopped
1 2"-piece ginger, scrubbed, finely grated
5 garlic cloves, finely chopped
1/3 cup chopped scallions
2 Tbsp. finely chopped thyme
2 Tbsp. vegetable oil
2 Tbsp. dark or light brown sugar
4 tsp. ground allspice
1 Tbsp. Diamond Crystal or 1¾ tsp. Morton kosher salt
2 tsp. dried thyme
1 tsp. coarsely ground black pepper
1 tsp. granulated garlic
1 tsp. ground cinnamon
1 tsp. ground ginger
1 tsp. ground nutmeg
½ tsp. cayenne pepper
½ tsp. ground cumin
Potatoes and assembly
5 large Yukon Gold potatoes (about 2 lb. total), scrubbed, cut into 1" pieces
1 large sweet potato (about 12 oz.), peeled, cut into 1" pieces
1 tsp. Diamond Crystal or ½ tsp. Morton kosher salt; plus more (optional)
¾ cup mayonnaise
¼ large red onion, finely chopped
2 scallions, chopped
½ tsp. coarsely ground black pepper
Jerk rub
Using a fork, mix lime zest and juice, chiles, ginger, chopped garlic, scallions, chopped thyme, oil, brown sugar, allspice, salt, dried thyme, black pepper, granulated garlic, cinnamon, ginger, nutmeg, cayenne, and cumin in a medium bowl to combine (adding the chiles to the lime juice and zest at the beginning is important: it allows the juice to slightly blunt some of the sting of the chile).
Potatoes and assembly
Combine Yukon Gold and sweet potatoes in a large pot, pour in water to cover, and season with salt if desired. Bring to a boil over medium heat and cook until fork-tender, about 40 minutes. Drain and transfer to a large bowl (potatoes will be crushed at this point, especially the sweet potato, and that's okay).
Meanwhile, mix mayonnaise and 2 Tbsp. jerk rub in a small bowl to combine (you will have leftover rub, see headnote for other uses). Set dressing aside.
Add red onion, scallions, 1 tsp. Diamond Crystal or ½ tsp. Morton kosher salt, and ½ tsp. black pepper to potatoes and toss to combine. Add dressing and fold into potatoes with a rubber spatula until well coated. Serve potato salad warm, room temperature, or chilled.