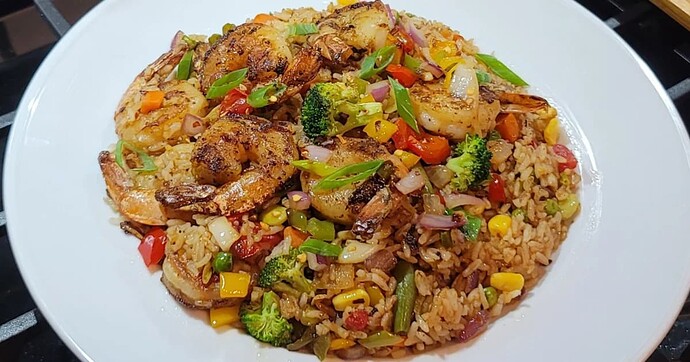 3 tablespoons diced red bell pepper
3 tablespoons diced green bell pepper
3 tablespoons diced Spanish onion
3 tablespoons green peas
3 tablespoons chopped carrots
2 tablespoons sliced scallion, plus more for garnish
1 tablespoon fresh thyme
1 pinch diced Scotch bonnet pepper
1/2 cup broccoli florets
3 tablespoons olive oil
1 tablespoon spicy jerk seasoning, preferably Walkerswood brand
salt and freshly ground black pepper
Old Bay seasoning
1 pound baby shrimp
1 tablespoon jerk barbecue sauce
2 tablespoons stir-fry sauce
2 cups precooked white jasmine rice
Combine all vegetables in a bowl and set aside.
Heat a skillet over medium heat.
Add oil into your skillet, making sure the oil is hot.
Add the fresh vegetables and jerk seasoning and sauté for one minute. Season with salt, pepper and Old Bay seasoning, to taste.
Add shrimp and sauté for about 2 minutes. At this point, add the barbecue and stir-fry sauces, and sauté for about 1 minute.
Add rice and fold it in slowly. Let cook for 1 minute while stirring.
Garnish with scallions and serve.