Today's Secret Recipe comes from Joan's on Third in Los Angeles. This family owned establishment features a gourmet marketplace and a delightful Cafe. Joan's is a favorite spot for lunch or an early dinner.
One of the amazing homestyle dishes they serve at Joan's is the macaroni and cheese. Joan's version of this classic uses four types of cheeses to create a unique texture and flavor to this dish.
Before I go, I want to remind you that you still have time to take advantage of our Collector's Edition Sale.
Enjoy!
=-=-=-=-=-=-=-=-=-=-=-=-=-=-=-=-=-=-=-=-=-=-=-=
Lose Weight While Still Enjoying Your Favorite Restaurants
Try this Water Hack
=-=-=-=-=-=-=-=-=-=-=-=-=-=-=-=-=-=-=-=-=-=-=-=
=-=-=-=-=-=-=-=-=-=-=
New Secret Recipe
=-=-=-=-=-=-=-=-=-=-=
Joan's on Third Macaroni and Cheese
Like this recipe? Get our Restaurant Secret Recipes – Go Here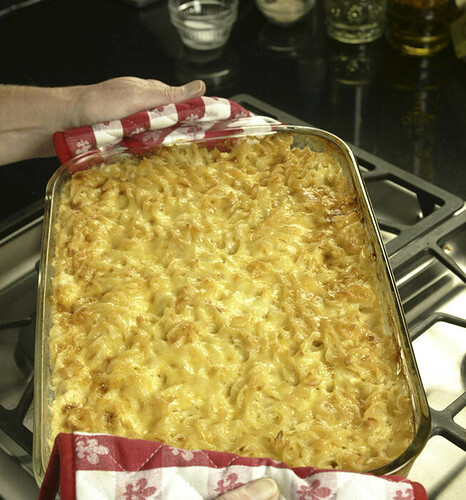 1 pound pasta (elbow macaroni, fusilli or any shape desired)
4 tablespoons ( 1/2 stick) butter, cut up
3 3/4 cups whole milk
3/4 cup ricotta or small-curd cottage cheese
3 ounces cream cheese
3 cups shredded Jack cheese
5 cups shredded Gouda, divided
Salt, pepper
Heat the oven to 350 degrees F. Cook the pasta in a large pot of boiling salted water until just tender. Drain well.

Return the pasta to the pot and add the butter, milk, ricotta, cream cheese, Jack cheese and 3 cups of the Gouda. Season with salt and pepper to taste and mix gently, leaving some chunks of cheese visible.

Spoon into a 9-by- 13-inch glass baking dish. Top with the remaining 2 cups Gouda. Bake 45 to 50 minutes, until golden. Serve hot or at room temperature.
Serves 12
Have a comment or question about this recipe? Post it here
Source: LA Times
Until Next Time… Be Well!
Kind Regards,
RSN