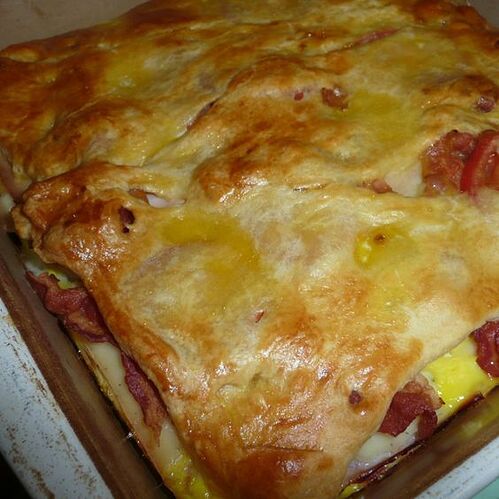 Turkey
1/2 cup unsalted butter, softened
1 tablespoon chopped fresh thyme
2 teaspoons finely chopped garlic (from 2 garlic cloves)
2 teaspoons chopped fresh rosemary
2 teaspoons chopped fresh sage
1 teaspoon lemon zest
1 tablespoon kosher salt, divided
1 1/2 teaspoons black pepper, divided
1 (6 lb.) bone-in, skin-on whole turkey breast
1/2 cup chicken broth
Casserole
12 ounces chopped bacon
16 ounces cubed thick-cut white bread slices (such as Texas toast)
1/2 cup melted unsalted butter
2 3/4 teaspoons kosher salt, divided
1 1/2 teaspoons black pepper, divided
6 large eggs 3 cups whole milk, divided
1/2 teaspoon dry mustard
6 ounces finely shredded Parmesan cheese, divided
2 tablespoons unsalted butter
2 tablespoons all-purpose flour
1 cup diced fresh tomatoes
2 tablespoons chopped fresh flat-leaf parsley
Prepare the turkey:
Stir together butter, thyme, garlic, rosemary, sage, lemon zest, 2 teaspoons of the salt,
and 1 teaspoon of the pepper in a medium bowl until well incorporated.
Rub butter mixture under turkey skin.
Sprinkle outside of turkey with remaining 1 teaspoon salt and 1/2 teaspoon pepper.
Pour chicken broth in bottom of a 6-quart slow cooker; add turkey, skin side up.
Cover and cook on LOW until a thermometer inserted into thickest portion registers 165°F, 4 1/2 to 5 hours.
Remove turkey from the slow cooker; remove skin from turkey and discard.
Chop turkey and set aside, covered.
Prepare the casserole: Preheat oven to 375°F.
Cook the bacon in a large skillet over medium until crisp, about 12 minutes; remove bacon.
Reserve bacon drippings. Toss together the cubed white bread slices, melted butter,
1 teaspoon kosher salt, and 1/2 teaspoon black pepper on a baking sheet.
Bake in preheated oven until toasted, about 16 minutes.
Whisk together the eggs, 2 cups milk, 1 1/2 teaspoons kosher salt, 1/2 teaspoon black pepper, and dry mustard in a large bowl.
Stir in 2 oz. Parmesan, 10 oz. chopped cooked turkey (reserve remaining turkey for another use), cooked chopped bacon, 3 tablespoons bacon drippings, and bread cubes. Pour mixture into a lightly greased 11- x 7-inch baking dish.
Bake in preheated oven until golden brown and set, about 45 minutes, shielding with foil during last 10 minutes to prevent excess browning, if needed.
Whisk together unsalted butter and flour in a small saucepan over medium until smooth, about 1 minute.
Gradually whisk in remaining 1 cup whole milk; cook until thickened and mixture just begins to bubble, about 4 minutes.
Remove from heat; whisk in remaining 4 oz. Parmesan, 1/2 teaspoon black pepper, and 1/4 teaspoon kosher salt.
Spoon sauce over casserole.
Top with diced tomatoes, chopped parsley, and remaining 1/4 cup bacon.